Key West Golf Cart Rentals are the BEST way to get around Key West.
Jump in one of our brand new golf carts
and cruise around Key West, island style.
Key West Golf Cart Rentals
Key West is completely golf cart friendly and ready for you to explore.
Free Shuttle service to any one of our locations to rent a Golf Cart.
We have multiple locations around Key West and the area's newest golf carts.
We have 4 and 6 passenger key west golf carts for rent.
Get your family and friends together and cruise down Duval Street
then cruise to Smathers Beach or Ft Zachary Taylor for a little ocean breeze.
Park in front of the Southern Most Point
and steal a picture while others are waiting in line.
Key West Golf Cart rentals  for up to 4 people
3 hour rental $90
8 hour Rental $145
24 hour Rental $180
Additional Day $100
Golf Carts for up to 6 people
3 hour rental $170
8 hour Rental $220
24 hour Rental $260
Additional Day $135
Rent a Golf Cart and drive it on the streets of Key West
You have the freedom to go as you please
and drive on Key West and stock island
YOU MUST STAY ON STREETS
with a Speed limit of 35 MPH or less
• Must be at least 22 years old to rent a Golf Cart.
• Valid driver's license and credit card required to rent.
• Driver must not have consumed alcohol before renting or during rental time.
We have 4 Passenger Golf carts and 6 passenger golf carts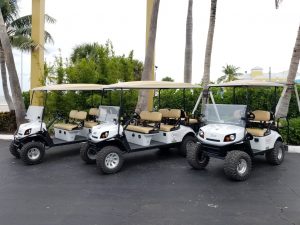 When your visiting Key West Florida you will have the best time when you rent one of our Golf Carts ,
Key West Golf Cart Rentals
If you are just cruising around Key West, Florida. or you have a special destination in the Southern most city our Key West golf cart rentals are the best way to get around .
Home | Key West All Day Watersports Adventure | Key West Parasailing | Key West Snorkeling | Key West Boat Rentals
Key West Beach Pass | Key West Dinner Cruise | Key West Sunset Cruise | Key West Safari Snorkel Tour | Key West Specials
Key West Wave Runner Tours  & Rentals | Key West Weddings | Key West Fishing | Key West Charters | Key West Dolphin Triple Combo